Home Asia Pacific South Asia India


Derogatory remarks against Buddhists in Ramdev's magazine, alleges Public Interest Litigation (PIL)
PTI, June 29, 2011
Allahabad, India -- A Public Interest Litigation (PIL) was today filed in the Allahabad high court alleging that derogatory remarks have been made against followers of Buddhism in the latest issue of a monthly magazine published by yoga guru Ramdev.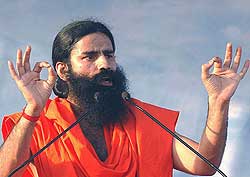 << Baba Ramdev
"The PIL has been filed by social organisations Bauddh Commune International, Lord Buddha Welfare Society and Kushwaha Mahasabha. The petitioners have sought a stay on the sale of the issue of Yoga Sandesh monthly journal containing derogatory remarks besides cancellation of the magazine's registration for publishing defamatory material," the petitioners' lawyer Raj Kumar Vaishya said.
He said the petitioners have taken objection to the aforesaid article in the magazine, published by Ramdev's Patanjali Yogpeeth trust, wherein derogatory remarks have been made against the Buddhist philosophy as well as its followers, including Emperor Asoka who is looked upon by many caste troups, including the Kushwahas, as an "illustrious ancestor".
The petitioners made it clear they have no problems with Ramdev's yoga or his brand of politics and their anguish was centred around the "objectionable things that have been said about followers of Buddhism".
The petition is likely to be taken up for hearing on July 1.