Home Asia Pacific South Asia India


Follow Lord Buddha's path for world peace: Dalai Lama
PTI, Jan 1,2012
Bodh Gaya, India -- Tibetan spiritual leader, The Dalai Lama, today asked Buddhist devotees to follow the path of Lord Buddha for promoting world peace.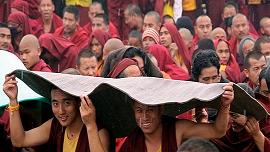 << Buddhist monks take shelter from the rain during a teaching session being addressed by the Dalai Lama on the first day of the Kalachakra festival in Bodhgaya January 1, 2012 - Reuters pic
Buddhism should not only be viewed as a tradition but taken up as a matter of study and exercise, the Dalai Lama said while addressing devotees who had assembled at Bodh Gaya, a place where Lord Buddha attained enlightenment during Kalchakra Puja at Kalchakra ground here.
He described Lord Buddha as "an ancient ideologue and scientist of the religion and I am following the path of Buddha as a teacher for maintenance of world peace." The Tibetan spiritual leader conveyed his New Year's greetings to the devotees who had assembled here from all over the globe.
Enthusiasm was visible among the devotees who braved inclement weather condition and rains during the religious discourse by the Dalai Lama. Tight security was in place for the Kalchakra Puja.
The Dalai Lama had arrived here yesterday from Himachal Pradesh to participate in the 10-day Kalchakra Puja, which has religious importance in Buddhism. The Tibetan spiritual leader also offered prayers at the Mahabodhi temple here.