Home Asia Pacific South Asia India


Tibetans asked to shun Tibetan New Year celebrations
The Associated Press, Feb 25, 2012
Charamsala, India -- Tibet's exiled government in India called on Tibetans this year to shun celebrations for their traditional new year, which started Wednesday.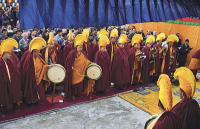 << In this photo, exiled Tibetan Buddhist monks beat ceremonial drums and cymbals on Wednesday, the first day of the Tibetan New Year, in Dharmsala, India.
Instead, Tibetans are urged to pray for those living under Chinese rule. Tibetan spiritual leader the Dalai Lama (not pictured) led a prayer session at the Tsuglakhang Temple in Dharmsala.
The Dalai Lamas, who have been spiritual leaders of the Tibetan people since the 17th century, come from the Gelug school of Tibetan Buddhism (also known as the "way of virtue") and are considered by adherents to be the embodiment of the bodhisattva of compassion.
The Gelug school places special emphasis on the role of ethics and monastic discipline as the basis for spiritual practice. For that reason, the great majority of Gelug Lamas are monks.
The government has been in exile since 1959 following the Tibetan uprising that came in response to repression by the Communist Party of China.