Home Asia Pacific South Asia India


Devotees fail to get a glimpse of Dalai Lama
Statesman, April 28, 2005
SILIGURI, India -- The security surrounding the Dalai Lama remained tight during his brief stopover at Salugara on his way to Delhi from Sikkim.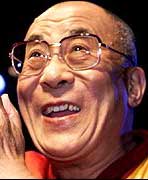 He performed a ritual at the Sed-Gyued Institute of Buddhist Studies today and also appealed for world peace before leaving for Delhi.
Not only did the Dalai Lama remain inaccessible to the Press but the large number of devotees, including monks who had turned up at the SGIBS to offer a ?khada? (ceremonial piece of cloth) to him and receive his blessings, were denied the opportunity to go near him.
Devotees expressed faith in His Holiness? spiritual and political leadership and appeared confident that the Dalai Lama would be able to visit Tibet sometime soon.
There was, however, no confirmation on the matter from the Dalai Lama?s entourage.