Home Asia Pacific South Asia India


Rise above religion: Dalai Lama
Statesman, April 28, 2005
GANGTOK, Sikkim (India) -- The Dalai Lama, in his last leg of Sikkim tour, today visited a number of monasteries in Gangtok and around. Today, he formally inaugurated a monastery in the Chandmari area of Gangtok amidst a sea of devotees gathered to seek his blessings. Yesterday, the Dalai Lama had visited Ranka monastery and the Sichey Tamang monastery. The Dalai Lama made it a point to visit all the monasteries despite of them belonging to different sects.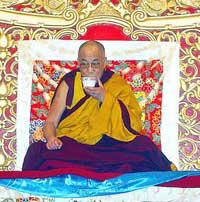 Reflecting on this, the Dalai Lama spoke about the need to rise above minor religious divisions and work to the betterment of humanity.
Apart from Buddhism, the Dalai Lama during a talk here also urged everyone to work towards unifying the whole of humanity, irrespective of their religious and cultural identities.
Later, the Dalai Lama visited the palace monastery and briefly spoke to followers there. Tomorrow, the spiritual leader will leave for Siliguri to preside over religious ceremonies organised there.
Yesterday, the Dalai Lama arrived here from a visit to West Sikkim. Devotees had lined up streets to greet the Dalai Lama?s convoy. To most here, the Dalai Lama?s visit was a lifetime opportunity and a chance to seek his blessings and teachings from close quarters.
Also blessed were followers who had come from Nepal and Bhutan to seek an audience with him. The Dalai Lama was all praises for the Sikkimese people, whom he referred to as one of the most pious lot.