Home Asia Pacific South Asia India


Dalai Lama inaugurates monastery
Tribune News Service, May 12, 2005
Kulu, India -- The Dalai Lama inaugurated the Dhagpo Shedrup Ling Monastery constructed at a cost of Rs 7.5 crore at Kais village near here today. Virbhadra Singh, Chief Minister, Himachal Pradesh, also joined him in the ceremony.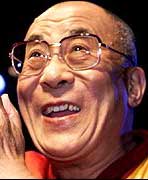 The Dalai Lama said the Tibetan could keep their cultural heritage alive with the support of India.
He said the construction of temples or going to temples could not give peace, one had to practise ?sadhna? for that.
Mr Virbhadra Singh said the monastery was founded in the late 15th century in the region of Dagpo in the eastern Tibet by scholar and master Lodoe Tenpa who was the sixth successor to Jey Tsongkhapa, founder of the Geluk school of Tibetan Buddhism.
The name ?Dhakpo Shedrup Ling? meant the important place in the Dhakpo region for study and practice of Lord Buddha?s teachings?.
The project located at Kais would have school for poor children, besides the monastic buildings, he added.