Home Asia Pacific South Asia India


Losar - the biggest Tibetan Buddhist Festival - begins in Ladakh
by Shravan Nune, Jagrandosh, 14 Dec, 2015
Ladakh, India -- Losar, the biggest Tibetan Buddhist Festival began on 12 December 2015 in Ladakh region of Jammu and Kashmir. The festival marks the beginning of New Year for Buddhists.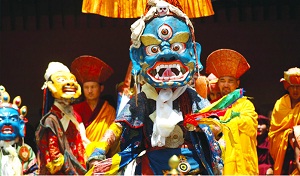 The annual festival is celebrated by people of the area with traditional and religion fervor. The festival begins with illumination of religious and residential places.
Buddhists of Ladakh celebrate Losar as their new year. Before the rule of Jamiang Namgyal (1555 to 1610) this day was celebrated on the first day of Ladakhi Buddhist Year which is based in the moon and sun (quite similar to Hindus).
However, the day was advanced by two days after Jamiang Namgyal decided to invade Skardu before the New Year.
Since then, Losar is celebrated on the last two days of the 10th Bodhi month that coincides with December of Christian calendar.
During this, people of Ladakh specially remember ancestors of their family. On this day, people visit graveyards of their family members and pray for peace of the departed soul. Apart from this, people also visit each other houses for exchange of Losar greetings.