Home Asia Pacific South Asia India


Dalai Lama Greets Aung San Suu Kyi on Her Birthday
Democratic Voice of Burma, June 18, 2005
Dharmsala, India -- Exiled Tibet spiritual leader His Highness Dalai Lama told DVB, on 15 June, that He is always praying for Burma's democracy leader Daw Aung San Suu Kyi and He prays that she would be released soon.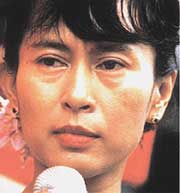 << Nobel laureate Aung San Suu Kyi celebrates her 60th birthday under house detention today
His comment came four days before her birthday, during a conference in the Norwegian capital Oslo where DVB is based. He expressed his pride for Aung San Suu Kyi, as a fellow Nobel Laureate, for her efforts for peace. Dalai Lama is visiting Norway for three days as part of His latest European tour.
When asked what He has to say to the generals of Burma's military junta, State Peace and Development Council (SPDC), Dalai Lama giggled heartily and said that as Buddhists, the generals should follow the teachings of Lord Buddha in their political activities.