Home Asia Pacific South Asia India


Monks to intensify demand for Mahabodhi temple control
IANS, August 2 2005
PATNA, India -- Buddhist monks have threatened to launch fresh protests to make the central government hand over the management of the 1,500-year-old Mahabodhi Temple in Bihar's Bodh Gaya town to them.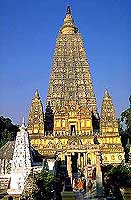 The Akhil Bharatiya Bhikkhu Mahasangh (ABBM), an influential body of Buddhist monks, has urged New Delhi to hand over control of the Mahabodhi temple - one of the holiest shrines of Buddhism - by amending the Mahabodhi Temple Management Act, 1949.
Bhante Anand of ABBM said it was decided at the two-day meeting of the body, which was attended by Buddhist monks across the country and concluded Sunday, that fresh protests would be launched to demand the handover of the temple management to Buddhists.
Anand told IANS that ABBM would launch a "Delhi-Bodh Gaya march" if the promised amendment in the act was not implemented soon.
Bhante said Buddhists had been given very little role in managing the affairs of the temple since 1949.
The site is significant because Buddha attained enlightenment 2,500 years ago under a banyan tree there, called the Bodhi tree. The temple was declared a World Heritage Site by UNESCO in June 2002. It attracts hundreds of tourists every day.