Home Asia Pacific South Asia India


Bengal keen on Buddhist circuit
Business Standard, September 22, 2005
Kolkata, India -- West Bengal government has appointed consultants to conduct a feasibility study on making Tamluk and Tamralipta, in the east Midnapore district, a gateway to the Buddhism tourism circuit.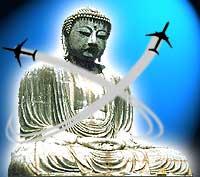 Dinesh Dakua, minister in charge, department of tourism, government of West Bengal, said the state intended to exploit the potential for Buddhism-based tourism potential of the eastern India circuit.

A five-member task force had been set up comprising eminent scholars and historians to research the Buddhist history of Tamluk which would draw up a list of places of historical interest around Tamluk, including the 15km stretch between Tamluk and Natshal in Mahishadal, with the myriad Buddhist stupas and viharas. Financial assistance would be sought from the centre and Unesco.

A model Buddhist monk village and a replica of the ancient Tamralipta fort on the Rupnarayan river, as well as a son et lumiere on the life of Gautam Buddha, were being looked at.

Dakua said since investment of Rs 10 lakh in tourism projects could yield 89 jobs compared to 13 in the manufacturing sector, the tourism potential of the state and revenues from it was immense if the infrastructure was in place.

According to Sanjoy Sett, eastern region head of the Travel Agents Association of India, eastern region tourism had been outbound, towards south east Asia.

"Flights to such destinations which had more than 2000 seats per week a few years back currently had a capacity in excess of 6000 seats every week," he said.





About Us
Get Breaking Buddhist News in your Email. Free subscription.

Please help keep the Buddhist Channel going

Point your feed reader to this location
Wikipedia: Buddhism by Country
Sangha Directory
Ecards
Wallpapers
E-Library
Archives
Sitemap
Submit an Article
Write to the Editor
Affiliation Program