Home Asia Pacific South Asia India


His Holiness Inaugurates Buddhist Conference in New Delhi
Phayul, November 2, 2005
Dharamshala, India -- His Holiness the Dalai Lama today inaugurated the International Conference of Mahayana Buddhists in the Indian capital today. Organized by the New Delhi based Tibet House the conference was opened today at India International Centre.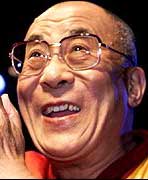 Titled 'International Conference on Mahayana Buddhism: History and Culture' the conference has drawn Buddhist participants from 18 countries, reported the Voice of Tibet radio.
As the monks of the Lhoka Gongkar Choede monastery chanted prayers Buddhists masters and practitioners welcomed His Holiness the Dalai Lama to the conference venue.
His Holiness the Dalai Lama expressed his sadness over the Delhi explosions, which killed 59 people and injured many others. "This is a believers' gathering so it is worthwhile to pray for the people who suffer natural disasters like hurricanes, earthquakes and also manmade sufferings like the one just a few days ago in Delhi," said His Holiness the Dalai Lama.
Speaking on the need to conduct researches on ancient works of Buddhist masters, His Holiness emphasized that more attention should be paid to the works of Buddhists masters of Nalanda like Nagarjuna.
His Holiness will be away till 24 November on visits to United States and Scotland.