Home Asia Pacific South Asia India


Dalai Lama, India's new tourism ambassador
Express Travel World, Dec 5, 2005
New Delhi, India -- What's common between his highness the Dalai Lama, an Air-India pilgrim package and champa flowers? Nothing really. But according to minister of state for tourism Renuka Chowdhury, the three can together help promote the Buddhist circuit and bring in those tourist dollars.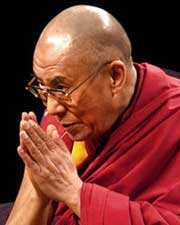 Chowdhury claimed that she had successfully persuaded the Dalai Lama to promote the Buddhist circuit in the country. "The Dalai Lama will get involved in promoting the Buddhist circuit," she told state tourism ministers at a state tourism projects' review meeting recently.
To ensure tourist arrivals to these sites, the tourism ministry was also in the process of working out MoUs with state-owned airlines like Air-India for introducing special pilgrim packages specifically targeted at Buddhist sites, Chowdhury said.
About 16 states, including Uttar Pradesh, Andhra Pradesh and Himachal Pradesh have been identified by the tourism ministry to develop various Buddhist sites. In Andhra Pradesh, for instance, there are over 140 Buddhist sites spread all over the state and the ministry has sanctioned several projects for infrastructure development in most of these sites. Determined to see speedy implementation on the development of the Buddhist circuit, Chowdhury is planning to rush a team from the Centre to oversee the pace of development.