Home Asia Pacific South Asia India


Buddhist Institute Warms Earthquake Victims
Phayul, December 24, 2005
Dharamshala, India -- In a gesture truly representing the philosophies of the Buddha himself the Palpung Muni Shasan Dharma Chakra Sangh (PMDCS) headed by the 12th Kenteng Tai Situpa Rinpoche provided relief materials to about a hundred families affected by the October 8 earthquake in Baramulla district of Jammu and Kashmir.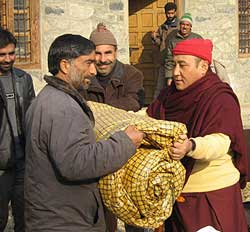 Villagers from Babe Gale, Bodrali, Limber, Manyan and Lachipora villages received the relief materials at a function held at the Wildlife Range office of Baramulla district on 14 and 15 December.
Kagyupa's Palpung Congregation of Vajrayana Buddhism based in Himachal Pradesh initiated the philanthropic act in conjunction with the Wildlife Trust of India (WTI) and the Forest Department of Jammu & Kashmir.
Relief materials sent by the government were said to be inadequate. Harsh weather and difficult terrain makes it difficult for these poor villagers to procure relief materials from the government. The relief package from the Tibetan Buddhist institute included tents, sleeping bags and ground sheets. Palpung monastery was represented by Lama Tenam Shastri, Secretary to the 12th Kenteng Tai Situpa Rinpoche, and two other monks.
Wildlife Trust of India's Riyaz Ahmed said that the monastery has entrusted the coordinating works to the Trust since it is familiar with region through its conservation activities in the state.
"A hundred more relief packages were sent to the Baramulla range office for distribution," Sandeep Tiwari, Senior Program Officer of WTI said.