Home Asia Pacific South Asia India


Dalai Lama in Hyderabad for Buddhist conclave
IANS, January 2, 2006
HYDERABAD, India -- Buddhist spiritual leader Dalai Lama on Monday reached Hyderabad amid tight security for a 15-day visit to Andhra Pradesh to attend 'Kalachakra', the global conclave of Buddhist monks.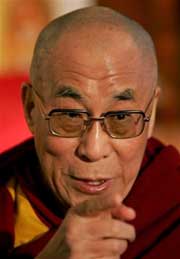 He told newsmen at the airport that he felt honoured to attend the 'Kalachakra' event in a land where the Buddha is believed to have taught. More than 100,000 Buddhists are likely to attend the 12-day long 'Kalachakra' beginning at Amaravati, a small town in Guntur district, on January 5.
"As a tiny follower of the Buddha I am feeling honoured to attend Kalachakra," he said.
The Dalai Lama, who will bestow Kalachakra empowerment for the 13th time in his life to promote peace and tolerance, expressed satisfaction over the arrangements being made by the state authorities for the mega event.
He will attend a programme at the State Museum where he will inaugurate the 16th enclosure named Holy Relic Gallery, containing a rare possession, to mark the Museum's Platinum Jubilee
Following a night halt in Hyderabad, he will leave for Nagarjuna Sagar on Wednesday and after attending a programme there, reach Amaravati.
Police have made tight security arrangements for the Dalai Lama following intelligence reports from Tibetan authorities about a serious threat to his life.