Home Asia Pacific South Asia India


Buddhist philosophy relevant in present times: Dalai Lama
New Kerala, Jan 9, 2006
Guntur, Andhra Pradesh (India) -- Spiritual Tibetan leader Dalai Lama today said the Buddhist philosophy of peace and compassion was very much relevant in the present strife-torn world.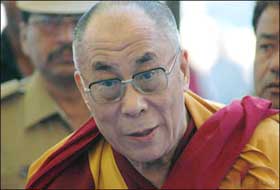 Speaking at the Buddhist holy place of Amaravathi here on the fifth day of Kalachakra programme, the Dalai Lama suggested the establishment of an international Buddhist study centre at Amaravathi where distinguished buddist monk-scholars live and preach the philosophy.
He also sought archaelogical research and excavation at Amaravathi and Nagarjuna Hills where the religion flourished once.
The spiritual leader thanked the Andhra Pradesh Government for the excellent arrangments for the programme.
Andhra Pradesh Chief Minister Y S Rajasekhara Reddy said the 'Mantras' chanted by the Dalai Lama and Buddhist monks during the programme could purify the mind and yield spiritual benifits.
Later, the Dalai Lama inaugurated the Rs 4 crore Buddhist Interpretation Centre at Amaravathi.