Home Asia Pacific South Asia India


His Holiness to Inaugurate a Buddhist Conference
TibetNet, February 08, 2006
Dharamshala, India -- His Holiness the Dalai Lama will inaugurate a 3-day Tibetan Buddhist conference organised by the Religion and Culture Department of the Central Tibetan Administration.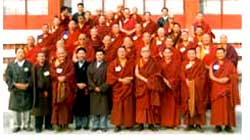 << Participants of the 8th Buddhist conference held at Varanasi
His Holiness the Dalai Lama is also expected to address the inauguration of the Buddhist conference, which will be participated by religious leaders, reincarnated lamas, abbots and learned teachers from four schools of the Tibetan Buddhism and the traditional Bon.
The 3-day Buddhist conference will be held at the Norbulinka Institute, Dharamsala, from 3 July 2006. This is the 9th Buddhist conference till date. The last conference was held at Varanasi in Uttar Pradesh state of India in 2003.
These conferences are being held to preserve and promote the Tibetan religious traditions.