Home Asia Pacific South Asia India


Dalai Lama in Varanasi to preach Tibetan Buddhist philosophy
By G.Dubey, NewKerala, Feb 7, 2006
Varanasi, India -- The Tibetan spiritual leader the Dalai Lama arrived on Monday here on a five-day visit to participate in various programmes at the Central Institute of Higher Tibetan Studies at Sarnath beginning today.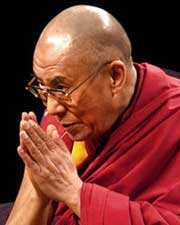 He is scheduled to chair a programme 'Dialogue between Indian Philosophical Traditions' to be organised at the Institute here today.
On February eight the Dalai Lama would give a keynote address at a seminar on 'The Four Traditional Tibetan Buddhist Philosphical Schools', official sources said.
Tight security arrangements have been made in Sarnath in view of the visit of the Dalai Lama.
He would interact with students and teachers of the institute the following day and would inaugurate a three-day international conference on 'Buddhism in Asia: Challenge and Prospects' on February 10.
On February 11, the Dalai Lama would leave for Gaya in Bihar to participate in various programmes marking 2550th anniversary of Gautam Buddha.