Home Asia Pacific South Asia India


Dalai Lama to inaugurate Buddha birth anniversary
Zee News, Feb 13, 2006
Gaya, India -- Buddhist spiritual leader Dalai Lama would inaugurate the week-long 2550th birth anniversary celebrations of Lord Buddha, organised by the Mahabodhi Society at Kalchakra Maidan in Bodh Gaya today.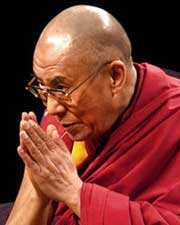 An International Buddha Seminar would be addressed by Dr Bhupendra Kumar Modi, president of Mahabodhi Society of India.
Chief Justice of Sri Lanka Sarath De Silva would deliver the keynote address.
Buddhist scholars from India, Taiwan, Bhutan and several other countries would also attend the seminar.
The Buddhist spiritual leader would also release special issue of a magazine `Sambodhi` today.
The inaugural ceremony of the month-long `Tripitika Chanting` would also take place, Mahabodhi society sources said.
A two-day seminar on "contribution of foreign fonasteries in propagating Buddhism in India" would also be held on February 14-15 which would be followed by an International Homeopathic Conference. Leading homeopathic doctors from 16 countries would deliberate on "incurable disease and their solution" during the conference.