Home Asia Pacific South Asia India


Dalai Lama offers lifeline to Indian tiger
Silicon India, March 6, 2006
NEW DELHI, India -- The Dalai Lama, Tibet's spiritual leader, has thrown a lifeline to India's dwindling tiger population after an emotional appeal to outlaw the trade in animal skins provoked an extraordinary reaction in his homeland.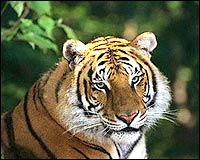 All over Tibet, there have been reports of people burning wild animal furs since the Dalai Lama, the Himalayan region's exiled god-king, made his appeal at a Buddhist prayer meeting in southern India in January. Thousands of Tibetans attended the festival and many carried the Dalai Lama's words back to their Himalayan homeland.
Conservationists say there has been a sharp rise in the poaching of tigers and leopards in India in recent years to feed an explosion of demand from Tibet. They say the tiger faced being wiped out in India as a result. Now they have some renewed hope.
"The reaction of the Tibetan people, now they have been made aware of the results of their actions -- it gives a little bit of light at the end of the tunnel for the Indian tiger," said Belinda Wright of the Wildlife Protection Society of India.
In January, the Dalai Lama said he was "ashamed" to see images of Tibetans decorating themselves with skins and furs. "When you go back to your respective places, remember what I had said earlier and never use, sell, or buy wild animals, their products or derivatives," he asked pilgrims at the Kalachakra, an initiation ceremony for Buddhists in south India.