Home Asia Pacific South Asia India


Dalai Lama wishes to visit Buddhist sites in China
Indo-Asian News Service, March 10, 2006
Shimla, India -- The Dalai Lama has expressed a wish to go on a pilgrimage to Buddhist sites in China. The Tibetan spiritual leader, speaking in Dharamsala, the seat of the Tibetan government-in-exile, said: "I wish to go on pilgrimage to prominent Buddhist sites in China."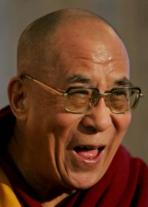 << The Dalai Lama
The Nobel peace prize-winner was addressing thousands of Tibetan refugees at a rally in the Himachal Pradesh town, 280 km from Shimla, to mark the annual Tibetan uprising day under an overcast sky.
According to observers, the Chinese pilgrimage has been a dream of the Dalai Lama for long, and China has rejected his offer in the past - twice in the 1990s.
The Buddhist spiritual head reiterated his "middle path" approach to solve the disputed Tibetan issue and hoped Tibet would eventually be treated as an autonomous region by China.
"Unfortunately, Beijing hasn't been able to overcome its doubts and suspicions about my intentions on the Tibetan dispute," he said.
The Dalai Lama fled Tibet in 1959 after a failed uprising against the Chinese communist regime.
He heads a government-in-exile in the hill town of Dharamsala. India is home to around 100,000 Tibetan refugees. The government-in-exile is not recognised by any country.