Home Asia Pacific South Asia India


Tibetans vow not to use animal skins
ICNS, March 17, 2006
Dharamsala, India -- More than 1,000 Tibetans vowed not to use skins of endangered wildlife species and donated scores of chubas (traditional Tibetan over coats). This was part of a special campaign to save wildlife, following an appeal from the Dalai Lama.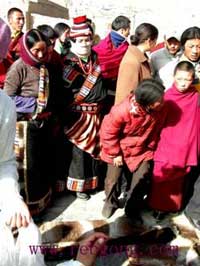 The initiative came from Tesi Environmental Awareness Movement (TEAM), an NGO. TEAM executive director Tsering Yangkey said Tibetans traditionally use tiger and snow leopard skin on their clothing but time has come to save these endangered species.
The campaign was scheduled during the preaching session of the Dalai Lama and on the first day on Tuesday. Over 1,000 Tibetans signed the vow not to use such products in future and donated their outfits made of pelts, Yangkey said.
She also said they will place all donated illegal pelts and other endangered animal products inside a special stupa, a Buddhist religious monument, in Himachal Pradesh's McLeodganj.
On Tuesday, the Tibetans led by Buddhist nuns from Shugseb Nunnery, organized a special prayer in McLeodganj for all deceased animals whose lives were sacrificed to "satisfy the Tibetan demand for their skin and other body parts."
There has been a sudden eruption of environmental activism ever since the Dalai Lama made a strong appeal to Tibetans during the Kalachakra in January in Amravati.
There have been many instances of voluntary burning of thousands of animal pelts inside and outside Tibet. Yangkey said the prayer vigil drew most of its inspiration from the recent environmental campaigns inside Tibet.