Home Asia Pacific South Asia India


Richard Gere wants to repair road to Dalai Lama's house
IANS, March 24, 2006
Shimla, India -- Hollywood star Richard Gere is keen to repair a narrow potholed mountain road leading to the house of Buddhist spiritual leader the Dalai Lama in Dharamsala town. Legislator Vijay Singh Mankotia said this in the Himachal Pradesh assembly Friday.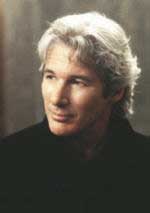 << Hollywood star Richard Gere, also a keen follower of HH Dalai Lama
Dharamsala, 280 km from here, is the seat of the Tibetan government in exile. Gere, a follower and friend of the Dalai Lama, is a frequent visitor there.
"Gere has promised to provide funds to repair a road leading to the house of the Dalai Lama in the town of Dharamsala, provided the money is properly spent," Mankotia told the house.
Earlier, Mankotia had asked Chief Minister Virbhadra Singh about the steps being taken to repair the road.
"In view of the dismal condition of the road which is causing frequent traffic jams and inconvenience to domestic and foreign tourists, including heads of state, who visit the town to meet the Dalai Lama, is the government taking any steps to widen and repair this road?"
Singh replied: "It is true that this is causing hardships to pedestrians and others, so the public works department has prepared a master plan to improve, upgrade and maintain this and other roads in the town."
In the past, the Tibetan government in exile has also offered to help in the upkeep of roads in upper Dharamsala.
The Dalai Lama and thousands of his followers have been living in exile in the town since 1959 when he fled Tibet.