Home Asia Pacific South Asia India


Dalai Lama consecrates ancient Buddhist monastery in Sanglha
Phayul, June 9, 2006
Sanglha, India -- An obscure yet ancient Buddhist monastery, in the Lahaul-Spiti area of Sanglha in northern India, was formally restored after His Holiness the Dalai Lama led a consecration ceremony there on June 8.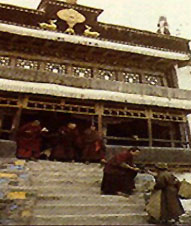 The monastery - although protected under the list of rare historical monuments by the Indian government - has no record of written history that could specify details on the founder and the era in which it was founded, reported Radio Free Asia (RFA) Tibetan news service.
The monastery, now called Kunga Choeling monastery, did not have a name even and traced its origin to a mysterious communication between a revered lama and the region's deity, the RFA report said quoting Ngodup Dechen, the present caretaker who has spent 15 years at the monastery.
In his teachings at Sanglha, the Dalai Lama emphasised the importance of inner peace and said material progress alone would not contribute to a happy and peaceful life. He further commended the religious devotion of the people in the Lahaul-spiti region and paid rich tributes to the erstwhile religious masters in the region who contributed immensely to the spread of Buddhism in Tibet .
It is the Dalai Lama's first visit to Sanglha area where he was greeted warmly by the local people. Later in the evening, the Dalai Lama left for Kalpa area in the same region.