Home Asia Pacific South Asia India


Buddhist holy tree vandalized in India
Bangkok Post, July 20, 2006
New Delhi, India -- A group of unknown miscreants cut off a branch from a 110-year-old Buddhist holy tree in India's eastern Bihar state, news reports said Thursday.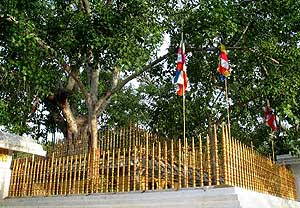 The Bodhi tree around which the Mahabodhi temple complex is built, grew from the original banyan tree under which Gautama Buddha, the founder of Buddhism, attained enlightenment 2,550 years ago.
The tree is located in Bodh Gaya town, which lies 100 kilometres south of the state capital Patna.
Temple sources told the IANS news agency that a branch of the Bodhi tree was chopped off a few days ago, but this was detected only on Thursday morning.
"When the news spread in the town, monks followed by local people thronged the temple premises. The district officials and the temple committee hushed up the issue," it quoted a source as saying.
The tree, most important of the four holy sites for Buddhists, is the sixth descendant of the tree under which Buddha meditated.
Every year, hundreds of thousands of Buddhist pilgrims and tourists visit the Mahabodhi complex, which was declared by the Unesco as a World Heritage Site in 2002.
The NDTV network reported that this was the second time in the history of the Bodhi tree that it was attacked.
In the seventh century AD, King Shashank had ordered the tree to be cut down, but it was later, replanted with a root from the original tree.
Local authorities and police were tight-lipped and were investigating into the matter.