Home Asia Pacific South Asia India


Mahabodhi Committee Denies Rumor of Tree Branch Being Chopped Off
Patna Daily, July 24, 2006
Bodh Gaya, India -- Denying that a branch of the historical Mahabodhi tree in Bodh Gaya under which Lord Buddha attained enlightenment over 2,500 years ago was recently cut off, the temple management said the news was not true and the branch in question was in fact chopped off over 30 years ago under the directions of noted horticulturists of that time.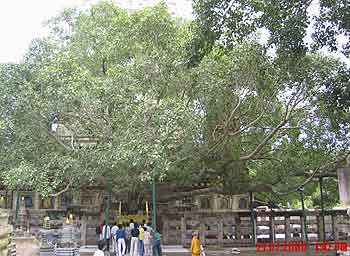 << The Mahabodhi Tree. Recent photo taken on July 21, 2006
Temple management committee secretary Kalicharan Singh Yadav, displaying a photo of the tree taken several years ago, said the branch was cut off after it developed some botanical indisposition diagnosed by renowned tree experts.
Earlier, news spread that unidentified miscreants had cut off the branch of the tree to stir up trouble in the land of Buddha. With television channels airing the news throughout the day, a concerned Chief Minister Nitish Kumar directed Home Secretary Afzal Amanullah and Director General of Police (DGP) Ashish Ranjan Sinha to visit Gaya though their helicopter could not take off due to bad weather.
Gaya District Magistrate Jitendra Srivastava and Superintendent of Police (SP) Amit Jain, after visiting the temple, denied the tree had been cut as reported in the media and said there was no reason to be concerned about.
Srivastava, however, said he would invite a team of experts to examine the tree and put the rumors to rest.
Meanwhile, the Nitish government, ordered a probe into the alleged report of vandalization of the historical tree.