Home Asia Pacific South Asia India


Buddhist monks protest alleged chopping of holy tree
India eNews, July 31, 2006
Patna, India -- Hundreds of Buddhist monks marched in this Bihar capital Monday to protest the alleged chopping of a branch of the holy Mahabodhi tree, grown from the original banyan tree under which the Buddha attained enlightenment 2,500 years ago.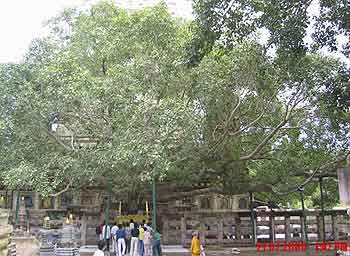 It was reported some weeks ago that unknown vagrants had chopped a branch of the tree at the Mahabodhi temple in Bodh Gaya. But the Bihar government dismissed it as a rumour and denied any damage to the tree.
Marching under the banner of the Bodh Gaya Mahabodhi Vihar All India Action Committee, the monks took out a peaceful protest march from the Patna station square and submitted a memorandum to Governor R.S. Gavai and Chief Minister Nitish Kumar, demanding a judicial probe into the matter.
They have threatened to escalate their protest across India if the demand is not met by Aug 31.
According to Bhante Anand, president of the committee, the government's claims that the branch had been cut a long time ago was untrue. 'The branch was cut a few weeks ago and sold to an international mafia gang,' he alleged.
After the incident, Sri Lankan's high commissioner to India visited Bodh Gaya followed by a five-member team from the country led by opposition leader and former prime minister Ranil Wickremesinghe.
The Mahabodhi temple was declared a World Heritage Site in 2002.