Home Asia Pacific South Asia India


Singapore keen on reviving Nalanda University
Patna Daily, September 27, 2006
Patna, India -- Singapore senior state Minister for External Affairs, Balaji Sadashivan, on Tuesday, met with Chief Minister Nitish Kumar in Patna and expressed his nation's interest in reviving the lost glories of Nalanda University and overall development of the Buddhist circuit in Bihar.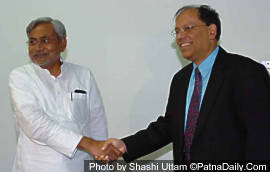 << Singapore state external minister meets with Bihar CM. Photo by Shashi Uttam
Describing his meeting with the CM and other top state officials as 'very fruitful', Sadashivan said the Singapore government was very keen on playing an active role in the development of Buddhist sites in Bihar including Bodh Gaya, Rajgir, and Nalanda.
"The Singapore government will hold a seminar on Nalanda University this November that would be attended by 18 countries," the dignitary said describing Nalanda as a symbol of peace and a place of higher learning in the whole of South East Asia.
Sadashivan said he was in Bihar with his team of experts to explore tourism, trade, and education and he will submit his report to the Singapore government upon his return to his country.