Home Asia Pacific South Asia India


Buddhist Translation Workshop Successfully Completed
LTWA, October 2, 2006
Dharamsala, India -- With the generous financial assistance of Geshe Thupten Jinpa's Institute of Tibetan Classics, based in Quebec, Canada, the Library of Tibetan Works & Archives organized a translation workshop on Buddhist philosophy for three months from 1 July 2006 to 30 September 2006.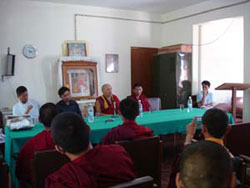 Twenty-five participants, ranging from college-going students to practicing traditional Tibetan doctors and qualified geshes keenly attended the workshop.
The participants were exposed to an intensive grounding of Tibetan language, English language, Translation techniques and Buddhist philosophy by experts arranged by the Tibetan library. In fact, the interest of the students were so much aroused that at the end of the workshop, some fifteen students requested that the workshop be extended further.
The final conclusion ceremony was held at 10 am, Saturday 30 September 2006, in the hall of the Tibetan library where the successful candidates were presented with certificates by the Director himself. The Director further promised to organize such workshops annually for Tibetans interested in the field of translation.