Home Asia Pacific South Asia India


Golden Jubilee celebration marks Ambedkar's conversion to Buddhism
The Buddhist Channel, October 2, 2006
Nagpur, India -- A week-long Golden Jubilee celebration of `Dhamma Chakra Pravartan' culminated here today with a main function to mark Babasaheb Ambedkar's conversion to Buddhism 50 years ago.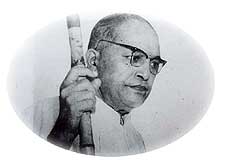 << The late Dr. B. R. Ambedkar called for emancipation from the oppressive caste system
Union Minister for Urban Development, Raghuvansh Prasad Singh, Union Telecommunication Minister Dayanidhi Maran, Minister of State in PMO, Prithviraj Chavan were among those who attended the function, while Bihar Governor R S Gavai presided the event, according to "Babasaheb Ambedkar Smarak Samiti" secretary, Sadanand Fulzele.
During the week-long celebration, a number of symposia and seminars was organised. Leaders from various factions of Republican Party of India also spoke on achieving goal of uniting Buddhists through the Ambedkarite Movement.