Home Asia Pacific South Asia India


Over 3,000 Dalits embrace Buddhism
PTI, Oct 14, 2006
Gulbarga, Karnataka (India) -- More than 3,000 Dalits today embraced Buddhism at an impressive ceremony here today, synchronising with the golden jubilee of Dr B R Ambedkar's conversion to Buddhism.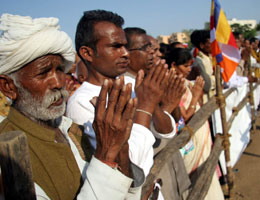 << People take vows after converting to Buddhism during a mass religious conversion ceremony in the central city of Nagpur yesterday
Marking the change of faith, the Dalits were administered the oath by Bante Bodhi Dhama, a Buddhist monk from Japan.
Preceding the ceremony, "Buddha Dharma Deeksha Pratigne", a huge procession led by more than 500 monks, was taken out through the city streets.
Karnataka Pradesh Congress Committee President Mallikarjun Kharge and former Union Minister Srinivas Prasad addressed the gathering.
Bante Bodhi Dhama said Buddhism safeguarded the interests and well-being of all human beings without any discrimination. There was no room for superstitions in Buddhism.