Home Asia Pacific South Asia India


Japanese Ambassador Keen to Invest in Buddhist Circuit
Patna Daily, October 17, 2006
Patna, India -- Japanese ambassador Yasukuni Enoki, his wife meet with Chief Minister Nitish Kumar on Monday. Photo by Shashi UttamJapan's ambassador to India, Yasukuni Enoki, during his two day trip to Bihar on Monday, said his government was keen on investing in the development of the Buddhist circuit in Bihar in an attempt to turn it around the choice destinations for Buddhist pilgrims from around the world.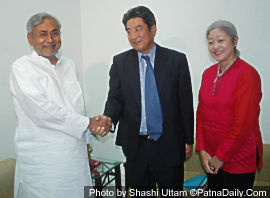 Enoki, who was accompanied by his wife, met with Chief Minister Nitish Kumar on Monday night and expressed the Japanese government's interest in the area. "Bodh Gaya, Nalanda, and Rajgir are of vital importance to Buddhists everywhere and we will study the feasibility of turning these places into world-class tourist spots that meet international standards," Enoki, who will leave for all three places of pilgrimage on Tuesday, told the Chief Minister.
The Japanese ambassador's visit comes five months after a seven-member delegate of the Japanese government met with the Chief Minister last May and proposed to develop the Nalanda University into a world-class seat of learning offering the best of everything – from the most qualified teachers to the highly-sophisticated teaching devices to restore the lost glories of the ancient university.
It may be noted that similar interests have been shown by leaders of other Buddhist nations including Singapore whose senior state Minister for External Affairs Balaji Sadashivan also visited Bihar in October to explore the possibilities of reviving the Nalanda University.