Home Asia Pacific South Asia India


Dalai Lama blamed for all 'hurdles'
TIMES NEWS NETWORK, Nov 22, 2006
PATNA, India -- Bhadant Anand Mahasthavir, national president of Buddha Gaya Mahabodhi Vihar All India Action Committee, has blamed the Dalai Lama all hurdles in Indo-China relations.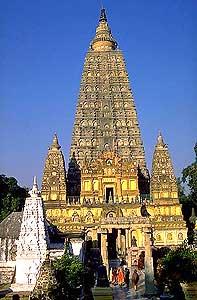 << The Mahabodhi temple in Bodhgaya, India, where the Buddha gained Enlightenment
Talking to the newsmen here on Tuesday, Mahasthavir said the Government of India should review its policies vis-a-vis the Dalai Lama.
Alleging that the Tibetan religious head had recently expressed his faith on China for the development of Tibet, Mahasthavir said the Dalai Lama was not the incarnation of Lord Buddha as claimed by his followers.
He also made scathing attack on the Dalai Lama for not coming out in support of Mahasthavir's movement for total control of the Mahabodhi temple at Gaya - the Buddhist's holiest shrine worldwide.
A delegation of the committee headed by Mahasthavir recently submitted a memo to state governor seeking amendment in Buddha Gaya Mahabodhi Temple Management Act, 1949 to bring back all the 10 Buddhist Bhikshus who were removed from temple services. The memorandum also demanded action against those responsible for manhandling with Bhikshu Karuna Kirti inside temple premises.
He also said the local policemen here had banned playing of Buddhist religious cassettes and were harassing committee member Mahendra Nath Bauddha.