Home Asia Pacific South Asia India


Education Kalon inaugurates Tsenyi Printing Press
Tibet.net, December 6, 2006
Dharamshala, India -- Kalon Thupten Lungrig, Kalon for the Department of Education, Central Tibetan Administration, inaugurated the Tsenyi Printing Press at the Sarah Institute for Higher Tibetan Studies here last Monday.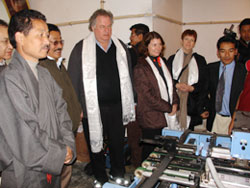 Congratulating the Tsenyi School (Institute for Buddhist Dialectics) for opening a printing press, the Education Kalon said that a printing press owned by Tibetan would be far more effective in rectifying errors and mistakes before printing any documents.
"And it will help us to produce hig-quality publications, which is one of the prime objectives of the Tsenyi Printing Press, he said.
Mr. Mickey, chairman of the Tibet Fund, Mr. Rinchen Dharlo, director of the Tibet Fund, Geshe Jamphel Dhakpa, principal of the Sarah Institute for Higher Tibetan Studies, and Geshe Kelsang Damdul, vice-principal of the Tsenyi School, also spoke at the inaugural function.
The Tsenyi Printing Press was funded by the Flora Family Foundation through the Tibet Fund.