Home Asia Pacific South Asia India


Tibetan leader Dalai Lama opposes death by hanging
The Associated Press, January 17, 2007
GAUHATI, India -- The Dalai Lama said Wednesday that he is opposed to extreme forms of punishment such as death by hanging in a reference to the recent execution of former Iraqi President Saddam Hussein.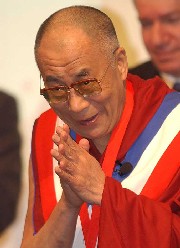 Buddhists generally believe that all forms of violence are wrong.
"Amnesty International has issued an appeal in general against death by hanging and I was a signatory to it," the 71-year-old Buddhist spiritual leader told reporters when asked to comment on the hanging on Dec. 30 of Saddam.
"I am opposed to hanging," he said. "Everybody needs peace, violence cannot achieve anything."
Earlier, he addressed nearly 20,000 Buddhists in Manu Bankul, a town 150 kilometers (100 miles) south of Agartala, the capital of Tripura state in northeastern India. He also laid the foundation stone for a Buddhist cultural complex.
The area is largely inhabited by the Mog tribe who are mostly Buddhist.
The Dalai Lama also switched on a camera, marking the start of shooting of a feature film on the Mog community.
The two-hour film "Wahdwang Tra," or "The Judgment," will deal with the community's traditions, customary laws and social issues facing them.
Tripura state has nearly 150,000 Buddhist tribal people and a sizable Buddhist migrant population who are mainly involved in trading.
The Dalai Lama fled into exile in India following an abortive 1959 uprising against Chinese rule in Tibet. He has been living in the northern Indian town of Dharmsala since then.