Home Asia Pacific South Asia India


Remove global tension with Buddha's teachings: Dalai Lama
PTI, January 16, 2007
Kolkata, India -- Tibetan spiritual leader Dalai Lama today called for removing growing global tension caused by war threats, terrorism and mistrust with the spread of the teachings of Lord Buddha.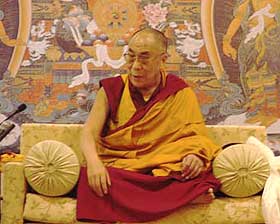 Expressing concern at the heightening tension due to war threats, terrorism, mutual mistrust and intolerance worldwide, the Dalai Lama said, "Mutual respect for each other, tolerance, love and compassion are the essence of Buddhism which can bring in peace, amity and religious harmony."
Inaugurating the 2,550th Buddha Jayanti Celebrations, organised by the Bengal Buddhist Association here, he said, "As we enter the 21st century, we see so many things are developing fast. At the same time several crisis and doubts are cropping up because of negative minds, intolerance and lack of mutual trust and respect for each other."
All these, he said, could be eliminated with the teachings of Buddha with the spread of his message for mutual respect for different religions along with tolerance, patience, trust, love and compassion.
He expressed concern at the spurt in social crimes along with incidents like suicides in China, Japan and fast developing western countries.
"We have to develop mutual respect for each other and develop our insight to improve and judge our power to see everything in totality and prevent all complications," he said adding the spirit of tolerance and forgiveness were the source of all happiness.