Home Asia Pacific South Asia India


Crawling monk just 50 km from Bodh Gaya
India News, January 30, 2007
Bodh gaya, India -- A Buddhist monk who has been crawling all the way from Tibet is now less than 50 km from Bihar's Bodh Gaya town, where Lord Buddha attained enlightenment.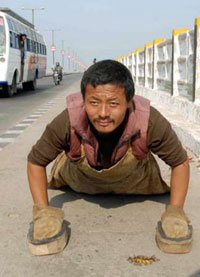 << Sherab Gyansen Lama crawled all the way from Tibet to Bodh gaya, India
Sherab Gyansen Lama, in his 30s, began his bizarre journey 18 months ago to express his devotion for the Buddha. He entered Jehanabad town Tuesday. He will then enter Gaya district to fulfill his goal.
'Lama is attracting crowds,' a police official of Jehanabad said. Locals have been praising him for his bravery to take up such a difficult challenge.
Lama will offer special prayers at the 1,500-year-old Mahabodhi temple near the Bodhi tree, under which the Buddha attained enlightenment.
Lama reached Kathmandu over two months ago and is believed to cover six to seven kilometres daily. Two more monks accompanying him take care of his health and daily needs.
The Mahabodhi temple was declared a heritage Site by UNESCO in June 2002 and attracts hundreds of tourists every day.