Home Asia Pacific South Asia India


Dalai Lama to open temple in Bihar
IANS, Feb 1, 2007
Patna, India -- Tibetan spiritual leader the Dalai Lama will Friday inaugurate a temple in Bihar's Bodh Gaya, the birthplace of Buddhism, a senior monk said Thursday.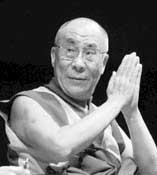 The temple is set to draw Buddhists across the globe because relics of the Buddha will be shifted from a temple in Sri Lanka to the new one. Moreover, relics of Buddha's two disciples from Kolkata will also move to the temple.
The Dalai Lama would open the temple Feb 3. 'The holy relics of Buddha from Sri Lanka as well as his disciples' relics would be placed in the temple in the presence of the Dalai Lama,' said a functionary in Bodh Gaya.
The relics of the Buddha were handed over to the Buddhist monks by Sri Lankan President Mahinda Rajapakse Tuesday. They had been kept in a Sri Lankan temple for decades.
Sri Lanka decided to shift the holy relics to Bodh Gaya because it is the holiest shrine of Buddhism in the world. The Buddha, who was born as Prince Siddhartha, founded Buddhism and is said to have attained enlightenment under the Bodhi tree in Bodh Gaya, about 110 km from here.
The relics will be on public display in Chennai and New Delhi before being brought to Bodh Gaya Friday.
Last year, Bihar had turned down a Sri Lankan government's request to send a casket containing the ashes of the Buddha for public exhibition.
Officials said the casket, kept at the Patna Museum, was too fragile to be transported to Sri Lanka.