Home Asia Pacific South Asia India


Xuan Zhang's Memorial Hall to be opened in Nalanda
IANS, Feb 9, 2007
New Delhi, India -- A hall built in memory of 7th century Chinese traveller Xuan Zang - will be opened Monday in Nalanda, Bihar's ancient seat of learning, in a sign of growing Indo-China friendship.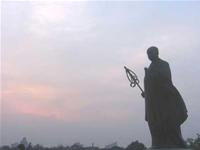 The memorial hall at Nalanda, 90 km from Bihar's capital Patna, has been built in memory of Xuan Zang's visit to India.

Chinese Foreign Minister Li Zhaoxing, along with Ye Xiaowen, administrator of the state administration for religious affairs, will attend the inauguration. Bihar Governor R.S. Gavai, Bihar Chief Minister Nitish Kumar, union Tourism Minister Ambika Soni and Indian Centre for Cultural Relations Chairman Karan Singh will be present on the occasion.

Vice President and Secretary General of the Buddhist Association of China, Xue Cheng, and Deputy Director General of China National Tourism Administration, Zhang Xiqin, will also attend.

Xuan Zang is famous for his 17-year trip to India, during which he studied with many noted Buddhist masters, especially at Nalanda. He was a student at Nalanda for five years and taught there for a year.

While returning to China he carried a large number of manuscripts - 657 Sanskrit manuscripts - with him and translated them in Chinese, laying a strong foundation of Buddhism not only in China, but also in Korea and Japan.

In 1957, the Dalai Lama and Panchem Lama of Tibet, representatives of then Chinese government, had handed over the relics of Xuan Zang and an endowment for the construction of the memorial to India's first prime minister Jawaharlal Nehru.