Home Asia Pacific South Asia India


Tibetans remember Dalai Lama on Human Rights Day
Indo-Asian News Service, Dec 10, 2004
Ahmedabad, India -- A Tibetan association paid Friday its tributes to the Dalai Lama, the Tibetan spiritual leader, to mark the Human Rights Day.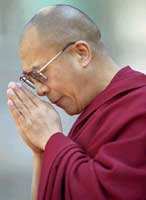 "We are also celebrating something more. It was on Dec 10, 1989 that the Dalai Lama was conferred the Nobel Prize for peace," said Yeshi Tithel, president of the city-based Tibet Association.
More than 100 Tibetan men, women and children stood patiently in a queue to pay floral tributes to the Dalai Lama's photograph near a makeshift Tibetan market in the centre of the city.
The association is a loose group of Tibetan traders who sell winter ware in the city.
"On the occasion of the international Human Rights Day, we pray to the Indian government to review its policy towards China," Tithel said.
"People in Tibet face human rights violations daily. The Dalai Lama, however, continues to inspire us in our struggle for rights," he added.
India is home to the Dalai Lama, whose government-in-exile is based in the hill town of Dharamsala, as well as some 100,000 Tibetan exiles.