Home Asia Pacific South Asia India


Karmapa Lama calls for world peace
ANI, December 23, 2007
Buddhist religious head Karmapa Lama has called for consolidation of world peace
Bodhgaya, Bihar (India) -- The 17th Karmapa Lama, Ogyen Thrinley Dorje said that he will continue to strive to bring greater unity among people.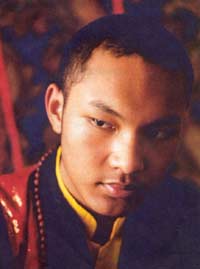 << The 17th Karmapa Lama, Ogyen Thrinley Dorje
On the sidelines of International Kagyu Monlam prayer festival at Buddhist pilgrimage Bodh Gaya in Bihar, Karmapa Lama said: Ever since I have started participating in the prayer for world gathering I wanted that the people who participate don't experience the conflict, they feel at ease and at home to join in the prayers. This is actually my attempt to bring more and greater unity among people."
The festival intends to promote and establish worldwide peace, harmony and happiness.
The Kagyu sect, one of the four major sects in Tibetan Buddhism, started this festival.
First held in 1983 in India, the prayer festival this year saw more than 7000 Buddhist monks, nuns and devotees from across the globe participating in the event.
The eight-day long festival is being held at the Mahabodhi temple in Bodhgaya, where Lord Buddha attained enlightenment.
Karmapa Lama is the head of the Karma Kagyu sect of Buddhism. Karmapa escaped to India in January 2001 after an arduous 1,400- km (875-mile) journey through the snow-bound Himalayas. He is now settled in Dharamsala, headquarters of the Dalai Lama.