Home Asia Pacific South Asia India


Mysterious death of elderly Buddhist monk in Bodh Gaya
ANI, December 28, 2007
Bodh Gaya, India -- An 84-year-old Buddhist monk from Bhutan, has alleged immolated himself on Thursday inside the premises of Maha Bodhi Temple at Bodh Gaya in Bihar under mysterious circumstances.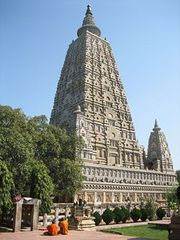 Police recovered the dead body in meditation posture with 90 per cent burns. The body has been identified to be of monk Gem Lhamo with the help of an identity card recovered from his bag.
The dead body suffered 90 per cent burns and was in static meditation posture, police said.
Police suspect it to be a case of suicide by initial investigation, though declined to confirm anything without due examinations.
"Prima facie, it looks like a suicide attempt. Rest of the information would be confirmed after post mortem.
The body was found at Samadhi Sthal (place of final resting) inside the premises of the temple. The incident might have happened around 7:00 to 7:15 p.m," said Jeetendra Shrivastava, the District Magistrate of Gaya.
Investigations are being conducted to trace the exact source that caused the fire, since no inflammable object or object has been found near the deceased monk's body.
"The dead body was found in meditation posture with 90 percent burns. The people from nearby shops had no information regarding the incident. We took him to the hospital for examination. We have still no clue over the reason and means which caused his death," said Jameel Asgar, Officer-in-charge at Bodhgaya Police Station.