Home Asia Pacific South Asia India


Buddhist monastery in Ladakh proves a touristsí draw
Thaindian (ANI), January 5, 2008
Nubra Vally, Ladakh (India) -- Disket Gompa, a Tibetan Monastery, located in the Nubra Valley of Ladakh in Jammu and Kashmir is mesmerising tourists.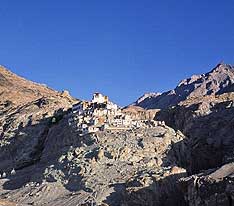 Disket has a dramatically positioned 'Gompa' or monastery on a hilltop, which is believed to have been founded in the early 15th century.
The 1400-year-old monastery built by a Buddhist Lama scholar Sherab Zsangpo has a school upto class five for 120 monks.
"A total of 120 lamas live here. We have one-hour traditional prayers daily. Apart from that we have five-six large-scale festive prayers. We have a mask dance as well," said Lobzang Dechan, a Lama.
"When we have festivals and such religious events, villagers also come here. It is a colorful affair and seek blessings," added Dechan.
The monks visit villages at lower altitudes to offer prayers during winter with only the aged monks staying back.
Pilgrims from all over Ladakh throng the place for the main festival of Gustor held at the end of February.
Nubra Valley was part of the famous old Central Asian trade route known as the "Silk Road" along which the trade from Yarkand in Central Asia and Mongolia was carried out. It lies about 10,000 feet above sea level and is about 3-4 miles wide.