Home Asia Pacific South Asia India


Buddhist priest cremated; Mumbai peaceful
PTI, Jan 8, 2008
MUMBAI, India -- No fresh incident of violence was reported in the city today, while the Buddhist priest, whose mysterious death had triggered violence in the city for the last two days, was cremated this evening.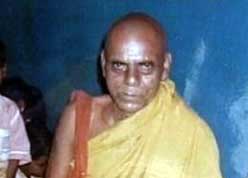 Fellow priests received the body of Sangharaj Thairo from J J Hospital after the second postmortem. His body was taken in a procession through suburban Deonar amidst high security and cremated.

The priests, who claim Thairo was murdered, had earlier refused to collect the body. However, they relented after deputy chief minister R R Patil assured that the arrests will be made soon.

They, however, continued with their hunger strike as no arrests have been made in the matter yet.

Though prima facie police held the 75-year-old priest's death to be a suicide, both the postmortem reports are inconclusive.

"The death was due to asphyxia and compression of neck. However, the final opinion was still pending," a senior police officer said quoting one of the reports.

A police officer said they cannot arrest anyone before ascertaining exact cause of the death.

"We will be asking forensic experts to give a categorical view whether the death was due to homicidal hanging or suicidal hanging."

Local residents allege that a builder, who was developing the slum area near Thairo's residence, had a role in his death.