Home Asia Pacific South Asia India


Governor inaugurates Buddhist Deepa Centre
News Agency of Kashmir, Feb 23, 2008
Buddhist philosophy effective tool against extremism: Sinha
Jammu, India -- Governor Lt. General (Retd) S K Sinha today said that the philosophy of Buddhism continues to be dear to most people of India and a source of inspiration to them, irrespective of their religion.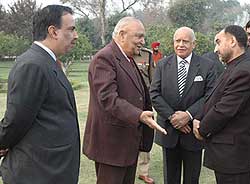 In his impromptu reaction to a reference made by a speaker during the inaugural ceremony of Mahabodhi Jammu Deepa Centre at the University of Jammu here this morning, the Governor though agreed that Buddhism did not now occupy the centre stage in India but to say that it got extinct would not be right as it continues to influence the Indian ethos.
General Sinha referred to the reverence and respect for Buddhism among Hindus, some of whom described Lord Buddha as an incarnation of Lord Vishnu. He said that Buddhism continues to dominate in South Asia and Far East countries.
'Buddhism greatly influenced the Father of Nation, Mahatma Gandhi who used of non-violence, brotherhood and love, the hall mark of Buddhist philosophy, and forged them into a weapon in his crusade colonialism in 20th century', the Governor said.