Home Asia Pacific South Asia India


Buddhist monks Fear 'Hinduization' of Mahabodhi Temple
Patna Daily, May 24, 2008
Patna, India -- Buddhist Priests Fear 'Hinduization' of Mahabodhi Temple. Photo by Anupam SinghThe president of the All India Bodh Gaya Mahabodhi Vichar Mukti Andolan Committee Bhadant Anand, at a press conference in Patna on Saturday, accused the state government of trying to 'Hinduize' the Mahabodhi Temple by setting up Hindu temples within the premises – a charge denied by the temple committee.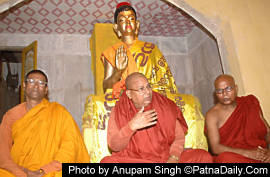 "We have been told that the government is trying to renovate the Hindu temples inside the Mahabodhi campus when the fact is that there are no Hindu temples inside the main location. This has given rise to the fear that the government is attempting to build Hindu temples in an attempt to 'Hinduize' the entire place," Anand said.

He also accused the government of failing to take proper care of the Mahabodhi Temple saying the Mahabodhi tree under which Lord Buddha is believed to have attained enlightenment over 2000 years ago was slowly dying and steps must be taken to ensure its roots are not weakened in the lack of water or natural fertilizer.





About Us
Get Breaking Buddhist News in your Email. Free subscription.

Please help keep the Buddhist Channel going

Point your feed reader to this location
Wikipedia: Buddhism by Country
Sangha Directory
Ecards
Wallpapers
E-Library
Archives
Sitemap
Submit an Article
Write to the Editor
Affiliation Program