Home Asia Pacific South Asia India


India to repair Myanmar's most-revered shrine
The Times of India, June 1, 2008
NEW DELHI, India -- India will repair Myanmar's famous Shwedagon Pagoda, or Golden Pagoda, which was damaged by cyclone Nargis on May 3. This offer was made during Sunday's pledging conference where around 52 countries promised rehabilitation and reconstruction aid to Myanmar.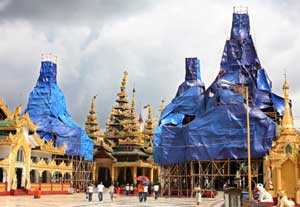 India's offer is a diplomatic coup of sorts. Shwedagon is Myanmar's most revered Buddhist shrine and is believed to house eight hairs of Gautam Buddha. For India, it's an unbeatable way of building up confidence with Myanmar, but it's also a way of claiming the diplomatic advantage on Buddhism.
For the past couple of weeks, as two of its neighbours, Myanmar and China, battled unprecedented natural disasters, India has been reaping massive diplomatic benefits by being among the first off the block in delivering aid and assistance.
In Myanmar for instance, quite apart from all the aircraft and ships, India's most valuable contribution has been the 47 Army doctors who are tending to about 1,500 sick people a day. India is also going to repair the Myanmarese power system that has taken a hit. India is taking advantage of the natural disaster in Myanmar to build deeper ties — ultimately it is also tied to balancing out China's influence in Myanmar. It is also helping Myanmar re-engage with the outside world.
Related story:
Myanmar's Shwedagon Temple Damaged