Home Asia Pacific South Asia India


Dalai Lama discharged from hospital after surgery
PTI, Oct 16, 2008
NEW DELHI, India -- Tibetan spiritual leader, the Dalai Lama, who underwent a surgery for gallbladder stone removal at a private hospital here, was discharged on Thursday morning.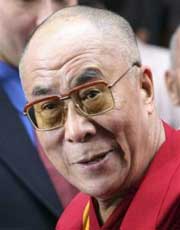 "He is absolutely fit to go back home now," Dr Pradeep Chaubey, gastro-surgeon at the hospital, said.
Coming out of the hospital at 9 AM, the 73-year-old nobel laureate said, "I am extremely happy with the treatment given and I had a pleasant stay here".
More than a hundred people had gathered outside the Gangaram hospital when the Dalai Lama left in a convoy of eight cars. The spiritual leader will stay in the national capital for a few more days, sources said.
The Dalai Lama was admitted on October 9 and underwent a laproscopic surgery to remove stones from the gall bladder the next morning.
"On October 10 AM, he was operated upon and we recovered multiple stones," Chaubey said, adding the Buddhist leader responded well to the treatment.
Recalling his stay in the hospital, Chaubey said, "He is an extremely jolly person with a smile on his face and he never got tensed before the operation or after it."
"You have more wisdom than I have. I am sure you will take good care of me and I am safe in your hands. It was such a wonderful surgery that I have become too relaxed. I don't have any work, nobody to see, nobody to talk to and it was like a holiday here," the spiritual leader was quoted by Chaubey as saying.
US hospitals like John Hopkins and many others had offered treatment to the Dalai Lama but he chose to do the operation here, Chaubey said.