Home Asia Pacific South Asia India


Buddhist devotees from Thailand take-up monk-hood in Bodh Gaya
ANI, November 8, 2008
Bodh Gaya, India -- Two Buddhist devotees from Thailand, on a visit to India, have taken -up monk-hood in Bodh Gaya on Saturday.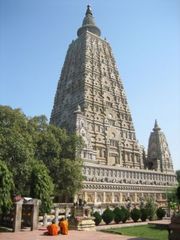 They were accompanied by hundreds of devotees who had come with them from Thailand.
The devotees took up monk-hood under the Bodhi Tree amid the chanting of sacred hymns.
Bante Achan Vichian, a Buddhist Monk said that if one takes up monk-hood he can lead a peaceful and successful life.
For some of the layman who wants to become a monk we believe that if you come under the Bodhi Tree your life will be peaceful and successful so that''s why two Thai Buddhist devotees who wanted to become monks came to India and made a function for the audience, said Vichian.
They were ushered into monk-hood with full religious ceremonies conducted by Bodh Dharam gurus.
A Buddhist is one who takes refuge in the three jewels: the Buddha, the Dharma and the Sangha.