Home Asia Pacific South Asia India


Ladakh celebrates its annual "Losar" festival
ANI, Dec 24, 2008
Ladakh, India -- Residents of Ladakh have celebrated the onset of their new year "Losar" with great festivity and fervor.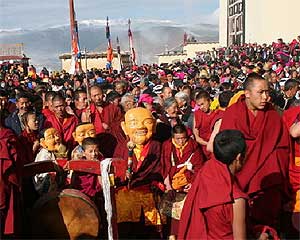 Losar is a Tibetan word for New Year. 'Lo' means year and 'sar' means new.

The annual Losar, as per the Tibetan calendar, generally commences a week prior to the Gregorian New Year and the celebrations continue till January end.
Residents mostly Buddhists also thronged the town's main monastery to pray and pay obeisance to 'Maitreya Buddha' or Future Buddha.
"The importance of this festival is not only spread to a limited area of all the Buddhist countries and Himalayas but till Mongolia because of the birth anniversary of the great Saint of Tibet, Gyalwa Tsongapa on the first day of the eleventh lunar month in year 1357," said Jamyang Gyalsion, a scholar.
Preparations begin on the 29th day of the tenth lunar month, which lasts for seven days with the illumination of buildings, gonpas (monasteries), houses, and shrines with butter lamps.
The festivities recreate the rich cultural heritage of Ladakh, popularly known as he roof of the world, situated at a height of 12,000 feet to 4,000 feet.

The festival is marked with ancient rituals, the stage fights between good and evil, chanting and passing through the crowds with fire torches.
The dance of the Ibex deer and the dramatic battles between the King and his ministers add to the joyous atmosphere.Though Ladakh is part of Jammu and Kashmir, the lifestyle and culture of the people are very different from the rest of the state.