Home Asia Pacific South Asia India


Dalai Lama extends New Year greetings to China
Indopia, January 25,2009
Dharamsala, India -- Tibetan spiritual leader the Dalai Lama today extended greetings to the people of China on the eve of Chinese New Year.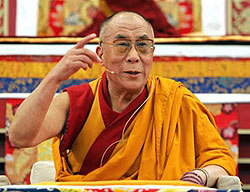 In his message the Buddhist leader said," China is emerging as a super power in terms of political, economic and military might."
In an oblique reference to Chinese crack down on Buddhist agitators in Tibet early last year, he said:"However, China cannot perform the responsibility of a super power in this modern and progressive world, if there is no freedom, rule of law and transparency in the country."
"I believe that China too will soon become more liberal in terms of disseminating and sharing information,"a statement said here.
On the global economic meltdown, the spiritual leader said it was the responsibility of all-believers to pray for the end of all sufferings of humanity, and for their happiness and well-being.
" President Hu Jintao&aposs policy of creating a harmonious society is indeed laudable and such a policy is indispensable for China if it were to make a mark globally,"he added.